Antiaging Antioxidant Oils: Do They Really Work?
When you hear the word "aging," how does it make you feel? Does it make you smile, or does it do the opposite? I've been thinking a lot about this word as we enter into a new decade.
I recently did an antiaging segment on Cityline, where I talked about ways we can stop—and in some cases reverse—physical signs of aging, without going under the knife.
While doing my research, I discovered the incredible benefits of antioxidant oils. Let's explore several of them and find out what the experts, the science, and advocates have to say.
Argan Oil
Argan oil is rich in vitamin E, an antioxidant that is great for healthy looking hair and skin.
Argan oil also contains melatonin, plant sterols, and coenzyme Q10, all of which can enhance its antioxidant properties. Some research indicates that consuming argan oil may slow aging by reducing inflammation. However, applying the oil to your skin may reduce the appearance of fine lines and wrinkles and also increase elasticity.
Baobab Oil
The fruit of the baobab tree, one of the oldest succulents in the world, is the source of this treasured oil. Baobab oil is known for its ability to soften and regenerate the skin and improve the appearance of fine lines, age spots, and wrinkles.
These benefits are attributed to the presence of large amounts of vitamins A, B, and C; as well as omega-3, -6, and -9 fatty acids. The oil is readily absorbed and is an excellent moisturizer.
Cacay Seed Oil
Cacay seed oil is extracted from the nut of the cacay tree, which grows in the Amazon forest. It contains a blend of fatty acids, the majority of which is linoleic acid, an essential fatty acid that is a great source of omega-6. Once you ingest omega-6, the body uses it to produce ceramide I, which is an essential part of a healthy skin barrier.
Cacay seed oil contains about 50% more of the antioxidant vitamin E than other plant-based oils, which makes it a great moisturizer. Vitamin E also stimulates renewal of skin cells, which in turn helps fight the signs of aging. The oil is also very high in retinol, which helps reduce lines and wrinkles.
Cranberry Seed Oil
Cranberry seed oil has one of the highest levels of antioxidants and phytosterols compared to other fruit or vegetable oils. That includes vitamin E as well as omega-3 and omega-6 essential fatty acids. These qualities make it a great choice for natural sun protection, which in turn helps reduce signs of aging and unhealthy skin.
Cranberry seed oil is cold-pressed from the seed of the berry. The oil is an effective moisturizer and can be found in skin products, where it can enhance the antioxidant activity of other oils.
Goji Seed Oil
Goji berries are among the most nutritionally rich foods in the world and are often referred to as a superfood. This is attributed to their high levels of antioxidants, essential fatty acids (they contain more than 19 amino acids), vitamins, and trace minerals. All of these ingredients work at one level of another to reduce the signs of aging.
For example, the antioxidants enhance the immune system and fight free-radical damage to the skin and organs. In particular, the antioxidants protect against damage from ultraviolet rays while the beta-carotene promotes healthy skin.
Marula Oil
Southern Africa is home to the marula fruit tree (Sclerocarya birrea), which is wild there but also cultivated. The oil has a fruity aroma and is mainly extracted from kernels at the core of the brown nut produced by the tree.
A wide variety of beauty products contain marula oil, which has a high moisture content and light texture. Its beneficial ingredients include:
The amino acids glutamic acid and ʟ-⁠arginine, which have antiaging properties.
Fatty acids, which provide moisturizing and softening benefits.
Antioxidants, including vitamins C and E, which destroy tissue-damaging free radicals and may protect against ultraviolet rays.
Research indicates marula oil is effective as a moisturizer for dry or aging skin. It may also help soften fine lines and keep your skin hydrated. The oil has antimicrobial properties and may be effective against the formation of pimples and blackheads.
Moringa Oil
The foothills of the Himalayas are the native home of the moringa tree, although it now grows in more than 80 countries. Since ancient times, moringa oil, which is extracted from the seeds, has been used for creams, ointments, and lotions.
Sometime, moringa oil is referred to as "Ben oil" because it is rich in behanic acid, a natural emollient, lubricant, and soothing agent for the skin. It also is a rich source of antioxidants and omega-9 fatty acids, which can help reduce the appearance of wrinkles and fine lines as well as provide an even skin tone. Moringa oil goes on smoothly, is not sticky, and doesn't make your skin look oily.
Pomegranate Oil
Those little pomegranate seeds enveloped in a gel-like coat are rich in various fatty acids, vitamins, minerals, polysaccharides, and polyphenols. Of particular interest are punicic acid and punicalagins (PNG), which have anti-inflammatory, antioxidant, and other qualities. Pomegranate oil has nourishing and moisturizing properties that are especially beneficial for aging, irritated, or sunburned skin.
Rosa Mosqueta Oil
Rosa mosqueta is one of the two most common types of rosehip oils used in skin care. One type is derived from the rose species called Rosa canina, and the other is from Rosa rubiginosa, which is where rosa mosqueta comes from. These two oils have differing nutrients and essential fatty acids, and the latter species has the higher fatty acid content.
Both oils have antioxidants (e.g. vitamins A and C, beta-carotene) as well as omega-3, -6, and -9 fatty acids. Rosa rubiginosa is perhaps better known for its trans-retinoic acid content (a natural derivative of vitamin A), which has restorative powers and can help reduce fine lines and wrinkles.
Sea Buckthorn Seed Oil
Don't let the word "sea" fool you. The sea buckthorn plant (Hippophae rhamnoides) is a shrub that grows in the Himalayan region. The oil is extracted from the berries, seeds, and leaves and has been a popular remedy in Ayurvedic and traditional Chinese medicine for millennia.
The antioxidants in sea buckthorn oil can help fight aging and diseases such as heart disease and cancer. The oil is a rich source of quercetin, a flavonoid associated with a lower risk of heart problems.
A unique feature of sea-⁠buckthorn oil is that it contains all four omega fatty acids: omega-3, omega-6, omega-7, and omega-9. Studies suggest the oil can reduce inflammation associated with exposure to ultraviolet light and also can improve skin elasticity when applied to the skin.
Tamanu Oil
Tamanu oil is extracted from seeds of a tamanu nut tree. People in certain Asian, African, and Pacific Island cultures, however, have been using the oil for centuries for various skin conditions.
In the antiaging realm, this oil has been shown to promote the production of collagen and glycosaminoglycan, which play an important role in skin regeneration and fighting aging skin. Other research indicates tamanu oil can help prevent wrinkles caused by sun exposure.
Bottom Line
A wide variety of antiaging antioxidant oils are available to help you ward off the effects of aging.
When trying new plant oils, test a small amount on your inner arm to see if you have any reaction before using the oil more liberally. It is possible to have a reaction to some seed or nut oils if you tend to be intolerant of these types of foods.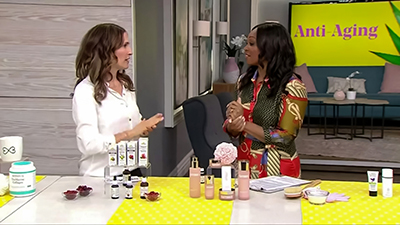 See the video of the Cityline segment here: newrootsherbal.com/exoticoilsvideo