Call-of-the-Wild Mushroom Soup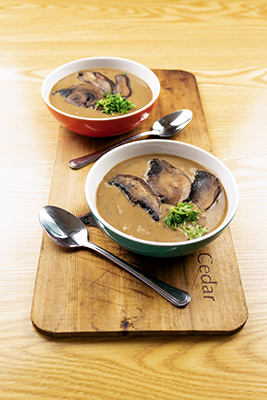 The complex flavour profile of Lion's mane powder makes this non-dairy take on mushroom soup the "cream of the crop."
Ingredients
Portobello mushroom caps, sliced then sautéed, broiled, or grilled.
1 medium-sized onion, diced
2 cloves garlic, diced
4 oz oyster mushrooms, finely chopped
4 cups low-sodium chicken broth
1 cup coconut cream
6 tbsp. butter
3 tbsp. all-purpose flour
4 tsp. New Roots Herbal's Lion's Mane Powder
½ teaspoon sea salt
½ teaspoon freshly-ground pepper
Instructions
Make a roux with the butter and flour. Gently heat half the butter, add flour when butter has melted, and stir until mixture has a uniform appearance and nutty aroma. Set aside to cool.
Add four teaspoons of Lion's Mane Powder, salt, and pepper to one litre low-sodium chicken stock. Bring to boil and let simmer for twenty minutes.
Sauté onions, garlic, and oyster mushrooms in other half of butter until onions are translucent.
Whisk one cup of broth into roux, then return to broth along with onion and garlic mushroom mixture. Stir in coconut cream, simmer, and stir until desired consistency is reached.
Broil, sauté, or grill olive oil–brushed portobello caps. Garnish with parsley and portobello.
Bon appétit! Serves four.