Sweet Potato and Apple Soup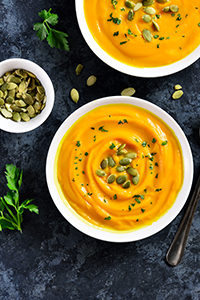 The perfect sweet and savory soup to warm up on a cool fall day.
Ingredients
½ medium butternut squash, peeled, diced, and seeds removed

2 medium sweet potatoes, peeled and diced

2 medium apples, peeled and diced

2 carrots, peeled and diced

6–8 cups vegetable broth

1 can (340 ml) full fat coconut milk

3 tbsp. olive oil, divided (2 tbsp. for roasting, one for soup)

1 tbsp. grated ginger

1 tsp. cinnamon

Salt and black pepper to taste
Instructions
Peel and dice all veggies and fruit (sweet potatoes, butternut squash, apples, and carrots). It may be easier to remove seeds from halved butternut squash. Cutting it up raw can be difficult at times.
Heat oven to 425 °F (218 °C). On a large baking sheet—or two—lined with parchment paper, place carrots, sweet potatoes, and squash. Drizzle with olive oil and sprinkle with cinnamon, salt, and black pepper. Place squash face down to roast.
Bake in oven for 40–60 minutes.
Add roasted veggies to a large pot with 1 tbsp. olive oil. Sautee in pot
for 1–2 minutes. Add apple, ginger, and broth. Season with salt and black pepper.
Let simmer for 20-30 minutes. Taste and adjust seasoning as needed.
Add 1 can coconut milk and remove from heat. Use an immersion blender to blend to desired consistency.
Sprinkle with garnish of choice (my favourites include toasted pumpkin seeds, kale chips, or fresh microgreens).
Serves 4–6
Angela Wallace, MSc, RD
A registered dietitian with the College of Dietitians of Ontario, personal trainer, and family-food expert who specializes in women and child nutrition and fitness, she loves helping families get healthy together.
eatrightfeelright.ca